This is no longer a joke the way young boys are are going into fraud without even hiding their identity they say it openly Yes, why I' m saying this is because there was a popular video of NBA g boy which he said he' s not scared of EFCC that he has been scaming and jacking since he was 18 years old.
people are saying that Nba g- boys is living a fake that everything about him is Fake so he decided to show them that he' s not fake He made a post on his social media handle saying that he will be visiting Nigeria soon because he was Atlanta and had issues with his papers so he said he is going to visit Nigeria so that his papers will be cleared before he goes back to Atlanta.
Now he visited Nigeria and shut down a shopping mall in Lagos spraying dollars which is what has been trending all over social media.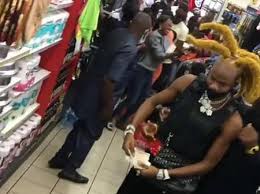 So here are some reasons why NBA g boy has been suspected to be a Yahoo boy. According to him he said he is richer than hushpuppi and he once said that he is not scared of EFCC that he has been scamming on jacking since he was 18 years old so for that he is no longer a afraid of EFCC The issue of fraud is getting out of hand in the society and it' s common among the youth.
NBA g boy is currently 19 years old and the money he shows up on Instagram is too much money that can make someone to be suspected even if he' s not a fraudster So he came to a shopping mall in Lagos and started spraying money as many of his fans who recognised him rushed him to take pictures with him I' ll be showing you the video of NBA g boy shutting down a shopping mall in Lagos as he visited Nigeria So guys what do you think about this guy don' t forget to drop your comments below