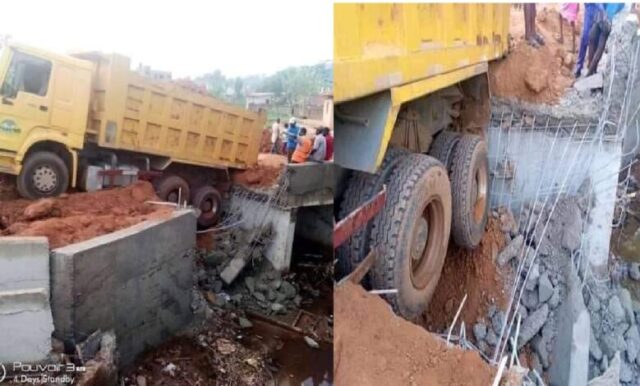 A bridge in Kogi State has reportedly collapsed on Sunday evening, in less than a week constructed by Governor Yahaya Bello administration.
According to the source, the bridge named Ozuma Bridge located in Okene, Okengwe area, the headquarters of Okene local government area of Kogi State.
Newsflash Nigeria gathered that the bridge collapsed less than a week after construction.
It was learnt that the Kogi State engineers reportedly use 10mm iron rod for Ozuma bridge construction.
Okene is the hometown of Governor Yahaya Bello.
The governor who is in his second term is yet to show any tangle projects done by his government.
Ozuma Bridge in Kogi
Meanwhile, the Nigerians have reacted about this incident, some blamed Governor Yahaya Bello and others blamed the state engineers constructed the bridge.
Ozuma bridge in Kogi
@ Omoyele Sowore, "Gov. Yahaya Bello and his Deputy, Edward David Onoja are the worst leaders to govern any state in the world, they constructed a bridge in Okene that collapsed in less than a week. What did Kogi people do to deserve these cruel men in the helm of their affairs?"
@Oyugbo Osagie Jonah, "When I say Kogi State should be shared between Edo and Abuja, their people almost use my picture for governorship.The amount Kogi State generates from Lokoja alone is bigger than 4 state revenue in the North. But Borno with insecurity have perform better than that Bello".
@Innocent Akanno, "That's what you get when you give contract to electrician engineer instead of a civil engineers with an adequate funding".
@Bash Masky Adams," I wouldn't want to blame the governor but, the contractors and engineers. Seriously, Nigeria system is so corrupt to the extent whereby you have to bribe the whole people in government of a particular state before you could be awarded a contract and these are one of the side effects and consequences. I pay huge to get awarded a contract and I have to reduce the quality of job to recover my cost of contract… Shame to Nigeria and her politicians."
@Kolawole Ismail Olusoji, "Is there any check and balance in Yahaya Bello's project? These are the set of people that are positioning themselves to be the president of the country.. Bunch of failures and disgrace to our Democracy".
@Adeyeye Gbenga Olabode," In a SANER CLIMES yaya Bello can not become a COUNCILLOR talkless of Governor, Not to talk of aiming to become a President. But this is Nigeria, Incompetent people get to power, when they have money and connections. But we will also blame those Engineers, who did sub standard job just because of money. COREN should investigate these Engineers and sanction them."
@Oguedoihu Chigozirim, "Although I don't know how using 10mm rod came about for construction work like that, but people need to understand this. Our politicians are wicked. The may write on paper that the contract will contract worth 6million, and give the contractor 3million which will lead to a deficit budget. This may force the contractor to use sub standard materials because he can't finish a contract and have nothing to go back with."
@Abdelwaliw Abdellah, "To start with, this is not a bridge but a culvert. Secondly, how do you know that it's 10mm that was used. And thirdly, why most a truck load of laterite sand ply that raid one week after construction. In every construction there is setting/curing period".
@Babtunde Ashland, "In my little experience, lack of Manage materials, lack of Engineers, 50 percentage took from contractors. Wicked people's, only mass people are suffering this some of politicians and leaders. They don't care, only care to steal and loots, that's their target. Wicked people's. I'm really upset with them. Wicked people's".
@Balla Umar, "Lets stop collecting kickback from contractors they are into business to maximize profits and whenever kickback is collected they compromise and manage materials and d outcome we be what we are witnessing today . Last time it was Taraba Bridge collapse and here we are witnessing another one . May GOD guides our leaders to do what is RIGHT , Aameen".