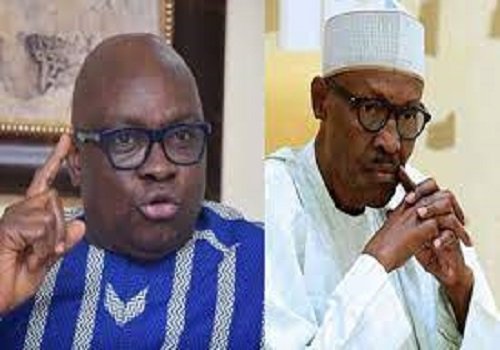 Former Governor of Ekiti State, Ayo Fayose, has ridiculed President Muhammadu Buhari after Twitter deleted the controversial post on his account on Wednesday, May 2, 2021.
Newsflash Nigeria recalls the social media giant had deleted President Buhari's tweet wherein he spoke about the civil war experience.
The President in a tweet on Tuesday threatened to deal with those bent on destroying Nigeria through insurrection.
In a post on Twitter, the president wrote, "Many of those misbehaving today are too young to be aware of the destruction and loss of lives that occurred during the Nigerian Civil War.
"Those of us in the fields for 30 months, who went through the war, will treat them in the language they understand."
However, the social media platform deleted the message on Wednesday, following widespread condemnation of the tweet.
According to a statement, Twitter said the post violated its rules, hence the need to delete the post.
Reacting in a series of tweets on his Twitter handle, Fayose said the social media platform should hold presidential spokesmen, Garba Shehu, Femi Adesina, and Minister of Information and Culture, Lai Mohammed responsible for a controversial 'civil war' post on the President's Twitter handle.
READ ALSO: AGF Malami in secret memo asks Buhari to suspend Nigerian constitution, declare martial law
According to Fayose, President Buhari did not post the content on Twitter because "a president who cannot address his own people in time of crisis can certainly not be the one tweeting on the crisis."
In a statement released on Twitter, Fayose said it was clear that neither Buhari nor his spokespersons were aware of the limits of the legal powers.
Fayose made the remarks in response to Buhari's threats against insurgents in the southeast.
"It is obvious that those using the President's powers for him do not know when and where to stop their power-madness.
"Regrettably, Twitter may not know that Buhari is not the one operating the handle. Can our President operate Android Phone not to talk of making genocidal tweets?"
Mr Fayose asked Twitter to hold Buhari's media aides responsible for the controversial tweets "Twitter should rather hold Garba Shehu, Lie Mohammad and co accountable." He said.