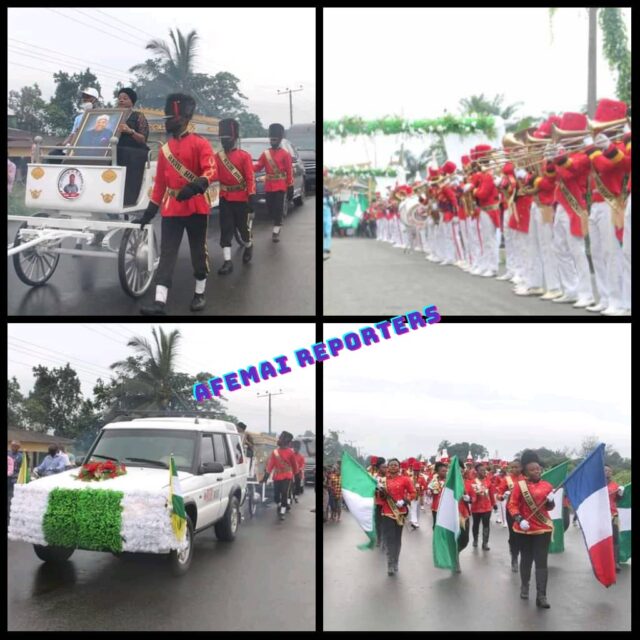 A community leader and patriarch of the Ekere family of Ikot Oboroenyin, Edemaya in Ikot Abasi Local Government Area of Akwa Ibom State, Sir (Obong) Gabriel Sampson Ekere was buried in his hometown yesterday, Saturday, September 11, 2021.
Papa Ekere was a prophet with honour in his homestead. He was loved by his people celebrated by his community admired by the people who have had cause to interact with him when he was alive.
Many Nigerians from all over the country graced the event among them are foremost industrialist cum top banker, Chief Olatunde Ayeni; HE, Mr Moses Ekpo (Representative of the Governor of Akwa Ibom State); Alhaji Abubakar Aliyu; Minister for Power, Hon Jedi Abah; Minister of state on Power, Sen Magnus Abe;
Sen Barry Mpigi; Sen Bassey Albert.
Others are Sen. J. J. Akpanudoedeghe; Chief Sony Jackson; Obong Umana Umana; Rt. Hon. Emmanuel Ekon, Rt. Hon. Aniekan Uko; Sen. Ita Enan; Hon Nasiru, Kano; Sir. Etekamba Umoren, Chief of Staff to Hon Minister of Niger Delta; Dr. Ita Udosen! Rt. Hon. Ekong Sampson; Mr. Akan Udofia; Mr. Kaltungo Moljengo; director at NDDC,.Engr. Ben Ukpong; Hon Emmanuel Akpan; Atuekong Don Etiebiet and wife; Obong Paul Ekpo; Sir Udo Kierian Akpan; Dr. Emem Wills; Dr. Udoma Bob Ekarika; Dr. Amadu Attai,; Prof. Etok Ekanem; Prof. (Bishop) Samuel Akpan; Obong Godwin Afangideh; Rt. Hon. Emmanuel Ukoete; Rtd.DIG Ekpoudom; Rt. Hon. Michael James Etim; Rt. Hon. Ekerette Ekpenyong; Her Honor, (Lady) Valerie Ebe; Chief. Inibehe Okon; Barr (Elder) Bassey Dan-Abia; Sir Sonni Ayang; Rt. Hon (Abom)Tony Esu; Mr. Austin Ekanem; Rt. Hon. Effiong Jo and many more.